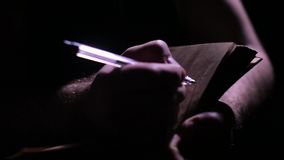 Yesterday, I listened to an old Don Francisco song, "Balaam." The lyrics include the line: "So when the Lord starts usin' you don't you pay it any mind. He 'could have used the dog next door if He'd been so inclined." https://www.youtube.com/watch?v=lbTAaBWmqsM
This year marks my forty-second year serving in various ministries always involving teens. I have been a Psychological Youth counselor, Youth minister, and school teacher. Now I call myself an "author." I am surprised God has used me at all.
Last year, I made a spiritual goal to use my writing AS ministry. As part of that I gave a speech to a monthly meeting of the Heart of America Christians Writers Network. (HACWN) My topic? "Writing in the Dark."
I shared that all of my published works came from deeply dark times in my life. I encouraged the attendees to also embrace the darkness—find God there—and share that with others.
I opened my heart and bled profusely before the crowded room. I talked about the time I forgave my alcoholic father, where the idea for my novel came from, how my wife died, and other tragedies that have been turned into stories in print. Only God knows how those things were used to comfort or encourage others in their dark times.
Then, I was asked to repeat the speech at HACWN's yearly writer's conference. And again at the American Christian Fiction Writer's monthly writer's meeting in Kansas City. I gave it my all hoping that it would affect writer's lives for God. I felt like Balaam's—uh—dog.
Surprisingly, I am privileged to repeat the talk at this year's HACWN conference. Apparently they like to watch me bleed.
Unfortunately, we experience darkness in our own lives, in the lives of family, and friends and wonder how we even survive.  Each unexpected turn of events has a profound effect on our writing lives and our faith. We have asked the same question, "Where is God in the dark?"
Yet, as writers, we somewhere find the courage to pick up a pen or our computer and write stories of conflict, loss, and love with a hope of shedding God's light in a dark world. It is in the storms, hardships, trials, and losses that we find our stories and tell others where God is.
Come hear a message of testimony, encouragement, and writing tips for "Writing in the Dark" from someone who uses his pen as a flashlight in the darkness. Information and registration is found on their website for the HACWN 2016 Conference. Embrace the Call October 20-22, 2016  http://www.hacwn.org/