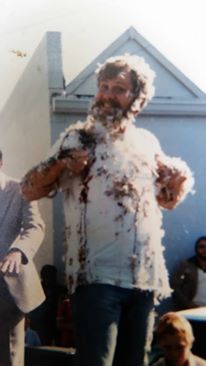 A Humbled Chicken…
A man once introduced me as "the most humble man he knows." It made me feel uncomfortable and only brought to mind all my sins just before I was about to preach.
I remembered the time I was the Youth Pastor where the Pastor decided to have an attendance contest. The Youth Department verses the adults. The loser would be honey and feathered. I lost.
Placed forcefully in the bed of a truck they poured honey, molasses, and syrup over me. Then came the feathers. Everyone laughed. I laughed, pretending it was fun. When I thought it was over, the truck started, and I was driven throughout the town while the driver of the truck honked the horn.
In the book, Leading with a Limp, Dan Allender says, "No one is humble by nature…. Humility comes from humiliation, not from the choice to be self-effacing or a strong urge to give others the credit. Humility that has not come from suffering due to one's own arrogance is either a pragmatic strategy to get along with others or a natural predilection that seems to befit only a few rare individuals. For most leaders, humility comes only by wounds suffered from foolish falls." (p69-70)
That man who introduced me never saw my failures that still—to this day—haunt me.
Today, I am writing a scene where a man is reminded of his sins, yet still has to be responsible for someone else's irresponsible behavior. He fears the future actions of another while regretting his own actions of the past. In other words, he tries to control a lighted keg of dynamite when he wants to explode. How does a man respond to that kind of stress? One man is humbled, shaped by the failures of his past; the other is prideful and oblivious to his sin.
In my day to day humiliations I wonder, which man am I?